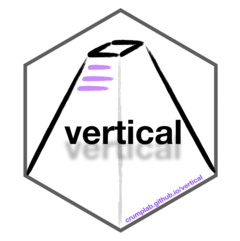 E2_DF_Blocked
E2_DF_Blocked.Rmd
Data collected 2/10/22
Load libraries
Demographics
A total of 45 participants were recruited from Amazon's Mechanical Turk. Mean age was 37.9 (range = 25 to 65 ). There were 11 females, and 34 males. There were 42 right-handed participants, and NA left or both handed participants. 36 participants reported normal vision, and 8 participants reported corrected-to-normal vision. 41 participants reported English as a first language, and 4 participants reported English as a second language.
Pre-processing
We are interested in including participants who attempted to perform the task to the best of their ability. We adopted the following exclusion criteria.
Lower than 75% correct during the encoding task. This means that participants failed to correctly press the F or R keys on each trial.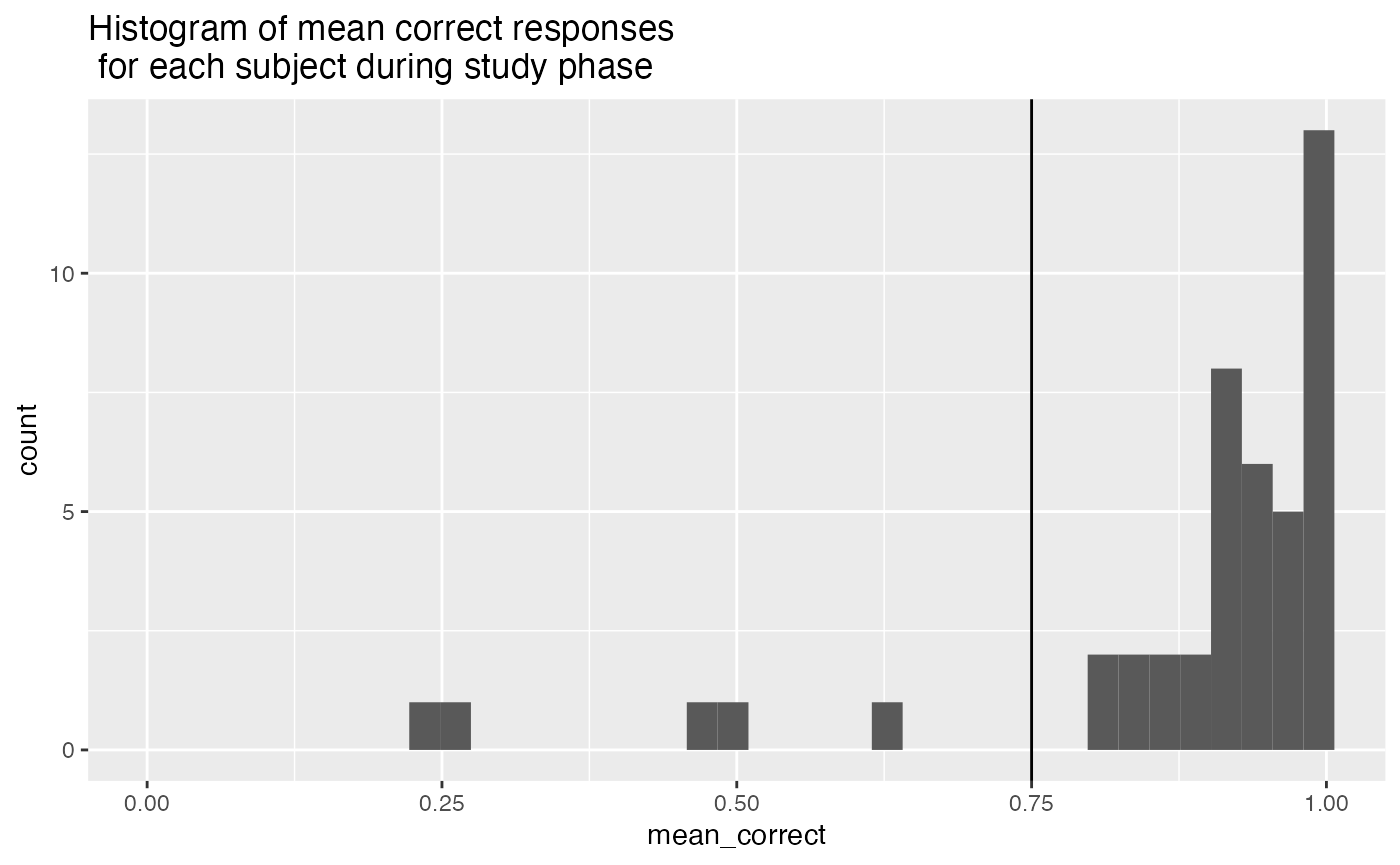 More than 25% Null responses (120*.25 = 30) during test. NULL responses mean that the participant did not respond on a test trial after 10 seconds.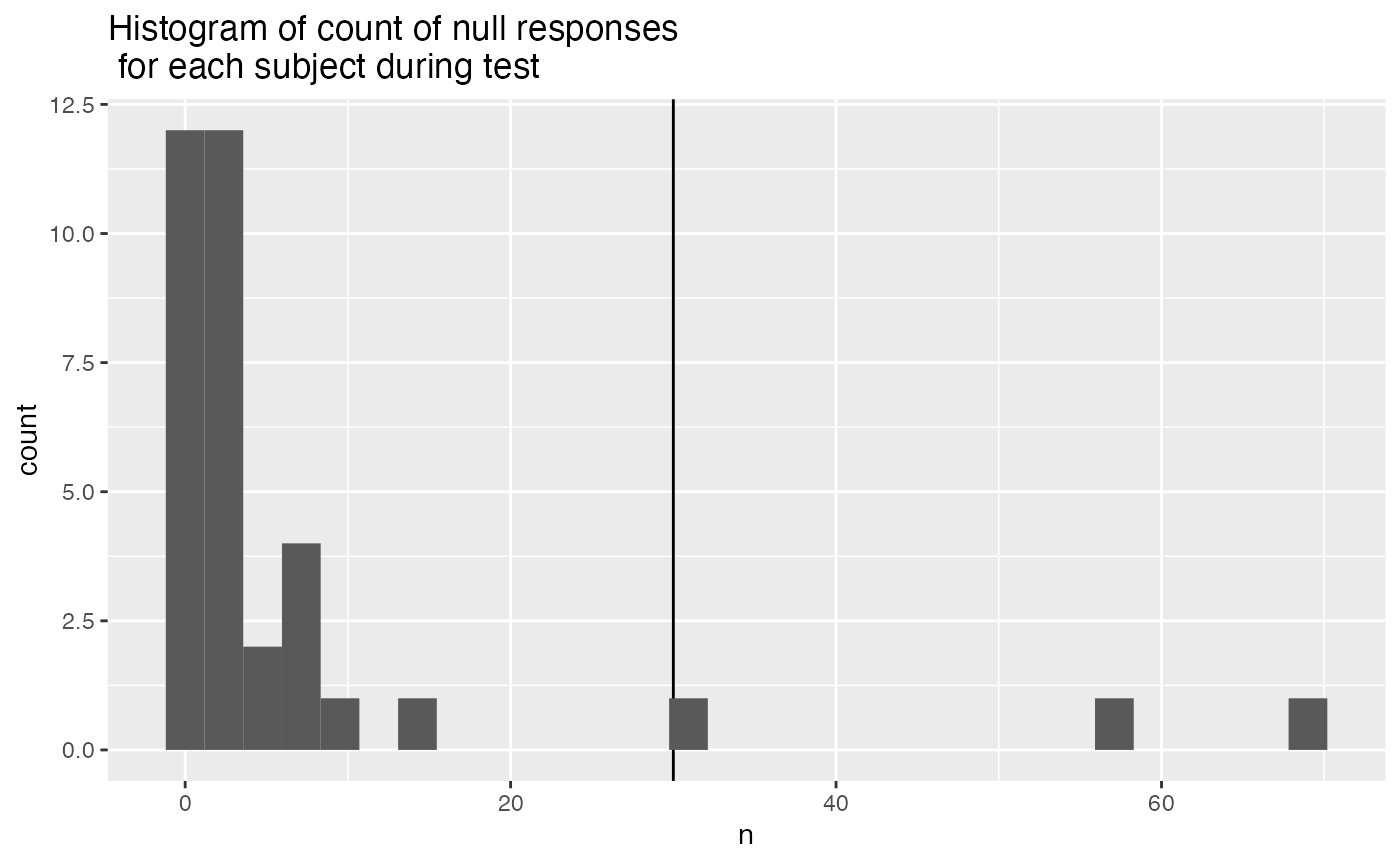 Higher than 75% response bias in the recognition task. This suggests that participants were simply pressing the same button on most trials.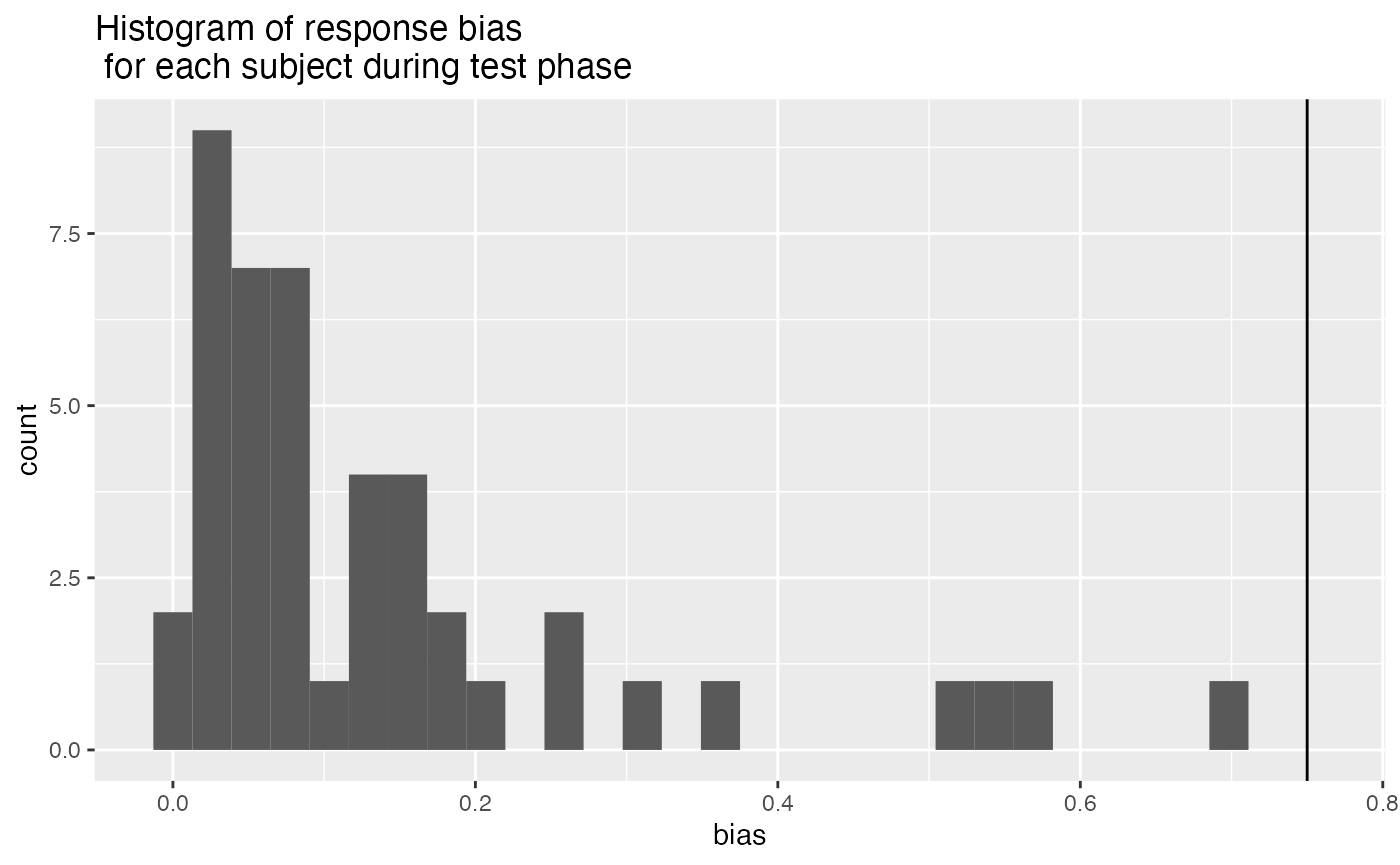 Making responses too fast during the recognition memory test, indicating that they weren't performing the task. We excluded participants whose mean RT was less than 300 ms.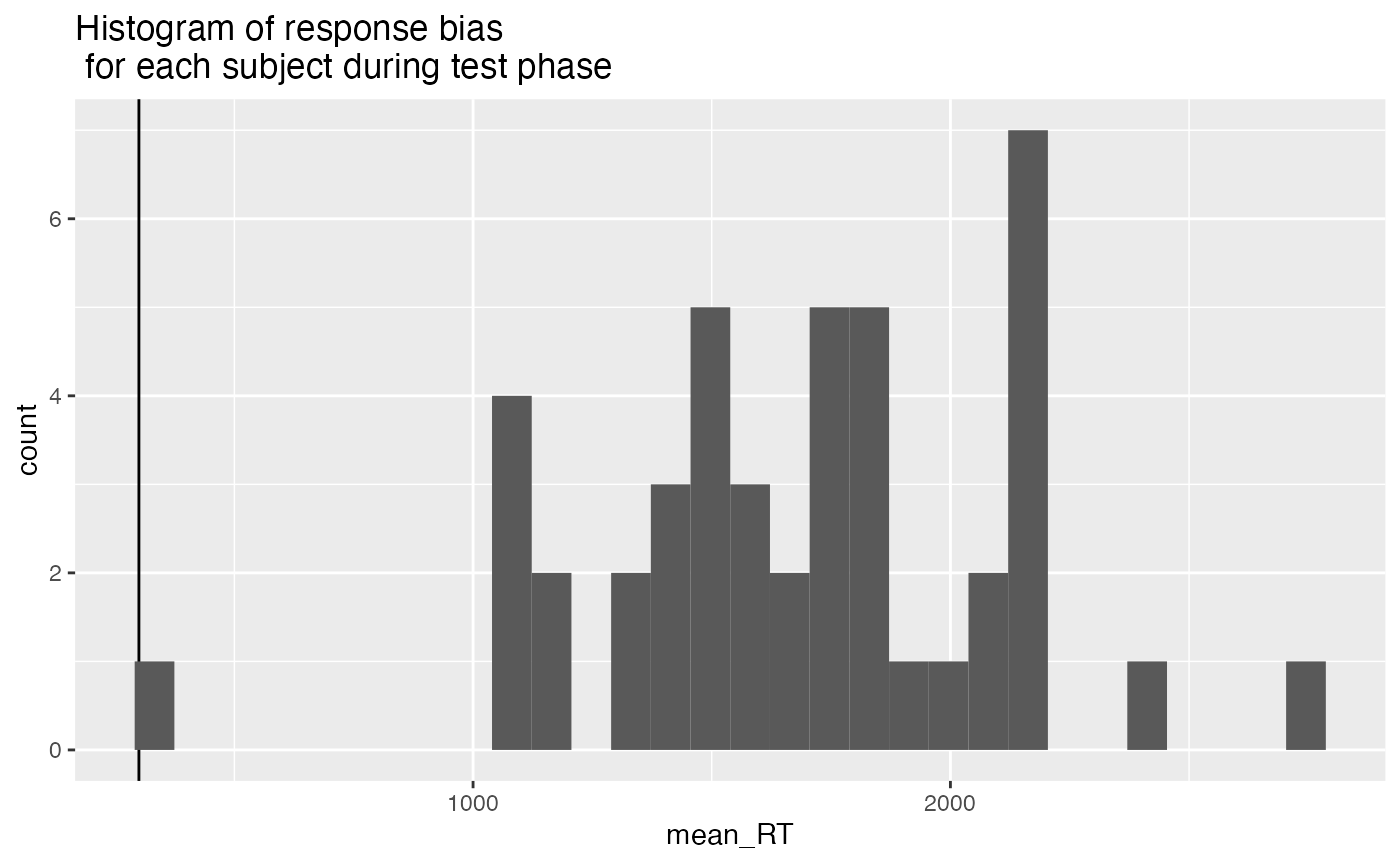 Subjects are included if they perform better than 55% correct on the novel lures.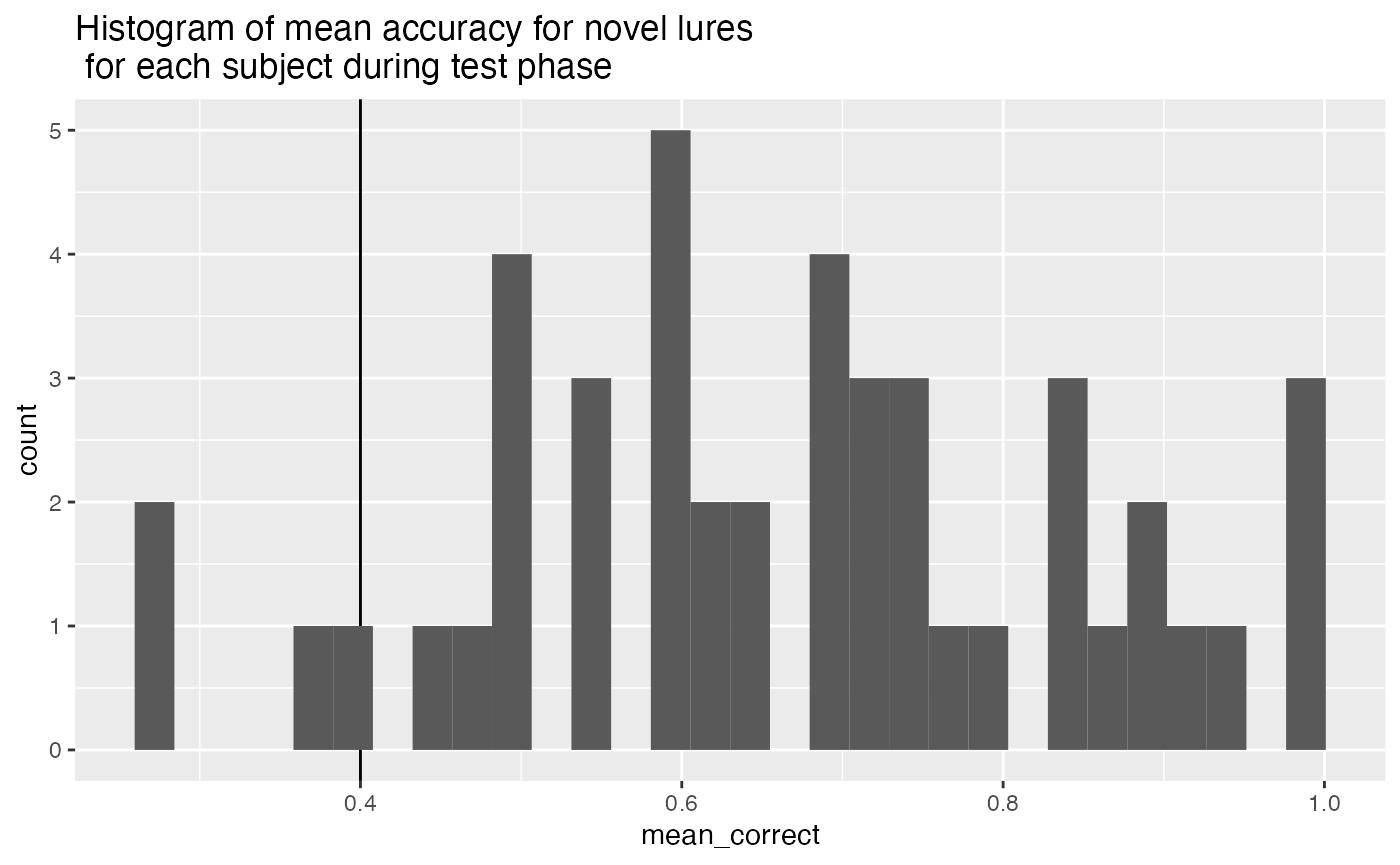 All exclusions



all_excluded

 

<-

 unique

(

c

(

study_excluded_subjects

,
                  

test_null_excluded

,
                  

test_response_bias_excluded

,
                  

test_mean_rt_excluded

,
                  

test_mean_novel_accuracy_excluded

)

)



length

(

all_excluded

)
## [1] 6
Our participants were recruited online and completed the experiment from a web browser. Our experiment script requests that participants attempt the task to the best of their ability. Nevertheless, it is possible that participants complete the experiment and submit data without attempting to complete the task as directed. We developed a set of criteria to exclude participants whose performance indicated they were not attempting the task as instructed. These criteria also allowed us to confirm that the participants we included in the analysis did attempt the task as instructed to the best of their ability. We adopted the following five criteria:
First, during the encoding phase participants responded to each instructional cue (to remember or forget the picture on each trial) by pressing "R" or "F" on the keyboard. This task demand further served as an attentional check. We excluded participants who scored lower than 75% correct on instructional cue identification responses. Second, participants who did not respond on more than 25% of trials in the recognition test were excluded. Third, we measured response bias (choosing the left or right picture) during the recognition test, and excluded participants who made 75% of their responses to one side (indicating they were repeatedly pressing the same button on each trial). Fourth, we excluded participants whose mean reaction time during the recognition test was less than 300ms, indicating they were pressing the buttons as fast as possible without making a recognition decision. Finally, we computed mean accuracy for the novel lure condition for all participants, and excluded participants whose mean accuracy was less than 55% for those items. All together 6 participants were excluded.